一. ASMPT Company Profile
ASMPT is the world's first technology and solution equipment manufacturer for processes required for semiconductor packaging and electronic product production, including: from semiconductor packaging materials, back-end processes (die bonding, soldering, packaging, etc.) to SMT processes. No other equipment supplier in the world has a similar comprehensive product portfolio and extensive knowledge and experience of assembly and SMT processes.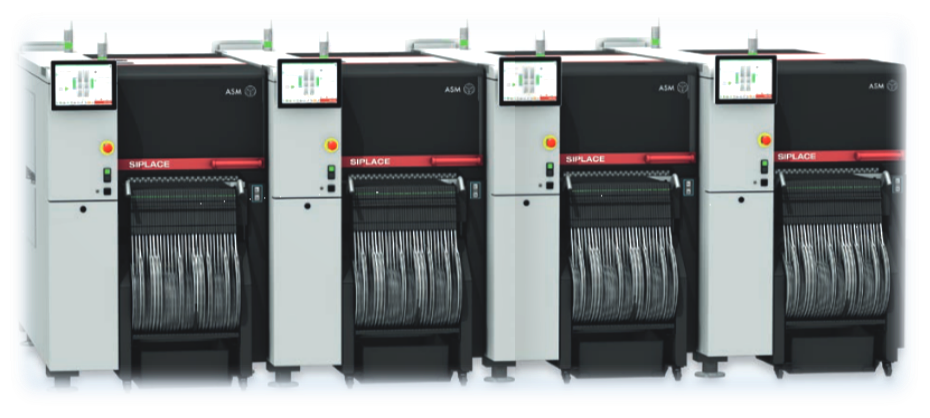 The development history of ASMPT: In 1975, it started from the Dutch parent company ASM international N.V-In 1989, ASM Pacific Technology Ltd was officially listed on the Hong Kong Stock Exchange-In 2002, ASMPT became the global TOP1 semiconductor assembly and packaging equipment manufacturer-In 2005, ASMPT market value exceeds 2 billion US dollars – 2011, SIMENS SIPLACE (SMT placement) team joined – 2013, UK DEK (SMT printing) joined – 2014, ALSI company (laser cutting/grooving) joined – 2018, US NEXX Company (deposition)/Germany AMICRA (die bonding system) joins/Portugal Critical Manufacturing Company (MES) joins – 2020, Shenzhen SKT Max (MES) joins – 2021, China Semiconductor wet Advanced Technology Co.Ltd, (Deposition) joins – In 2022, American AEI Company (Automotive Camera Active Calibration System) joins. Continuing through its own growth and strategic acquisitions, it has become a truly global multinational company.
ASMPT currently has two solutions divisions: Semiconductor Solutions Division (SEMI) and SMT Solutions Division. SEMI—mainly produces and provides semiconductor assembly and packaging equipment for the microelectronics, semiconductor, optical communication and optoelectronic markets. Provide diversified products such as: die bonding system, wire bonding system, plastic sealing system, cutting and forming system and all-round production line equipment. SMT – Provides best-in-class solutions for equipment, production lines, factories and multiple levels, including open automation concepts for smart electronics manufacturing. The solutions of its leading SIPLACE/DEK product line work closely with ALSI, AMICRA, NEXX, AEI to provide the most modern, flexible and configurable Manufacturing Execution System (MES).
二. TX series placement machine introduction
ASMPT TX series placement machine is the latest generation of smart placement machine launched by ASMPT. While ensuring efficient placement accuracy (22um/3σ), it also takes into account the efficient placement features of previous generations (SX, XS series). The size specification is only L*M*H 1.00M*2.35M*1.45M. Equipped with two cantilevers, two patch areas. Four kinds of patch heads 4 are available (CP20P/CP20P2/CPP/TwinHead). Users can flexibly configure the patch line according to their own needs.
三. Introduction
communication
The components of the TX series placement machine (electrical) adopt modular design, which is convenient for fault maintenance. The field bus (CAN_BUS) is used to realize the fast interactive transmission of data. It uses differential signals (CAN_H, CAN_L between the Differential voltage) The way of transmitting data is stable and has strong anti-interference ability.
powered by
The PS1-4 power supply in the power supply box adopts the PULS imported power supply from Germany to ensure the stability and safety of the power supply. And all power distribution is completed by FD.A1 (Fuse and Distributor), which further strengthens the security of power supply.
drive
The X/Y motor of the main part of the equipment is driven by a servo linear motor. The resolution of the grating scale is extremely high to ensure the accuracy of the position accuracy, and the operation is stable with low noise, fast response speed (large acceleration), and high position accuracy. , high accuracy is derived from the rigorous algorithm of its drive control core MGCU. The Star motor on the placement head adopts a high-precision servo motor, the Z motor adopts a high-precision linear motor, and the DP suction stage positioner adopts a high-precision servo motor. Adopting this driving method can maximize the placement accuracy. The driving motor (Rising table) of the PCB splint device in the patch area also adopts the control method of the servo motor, and has current feedback detection to ensure that the stress of the splint is within a reasonable range to the greatest extent.
material
The two cantilevers of the equipment are made of high-strength, high-polymer carbon fiber; it has the characteristics of lightness, tensile strength, and high strength. The conveyor rails are all made of German imported steel, which has the characteristics of oxidation resistance, corrosion resistance, high strength and wear resistance, and is still as new even after many years of use.
Xinling Industry specializes in providing one-stop solutions for ASM placement machine sales, leasing, spare parts supply, equipment and a full range of spare parts maintenance, technical training, software upgrades, hardware modifications, and efficiency improvements. The company's core technical team is mainly subdivided into Equipment maintenance group, patch head maintenance group, feeder maintenance group, board maintenance group, motor maintenance group, 24-hour day and night shift operation, providing technical consultation, technical support and other services to customers around the world, the majority of SMT factories purchase equipment is only a service At the beginning of the company, they are more looking forward to maintaining high-frequency interaction with suppliers for a long time, such as parts supply, parts maintenance, equipment maintenance, efficiency improvement, etc., to serve customers, there is no best, only better, we have been working hard…
---
Post time: Nov-18-2022